The Old Rebel Boot Company
Tony Lama Men's Red Lizard Cowboy Western Boots Vintage US Made Black Label 8.5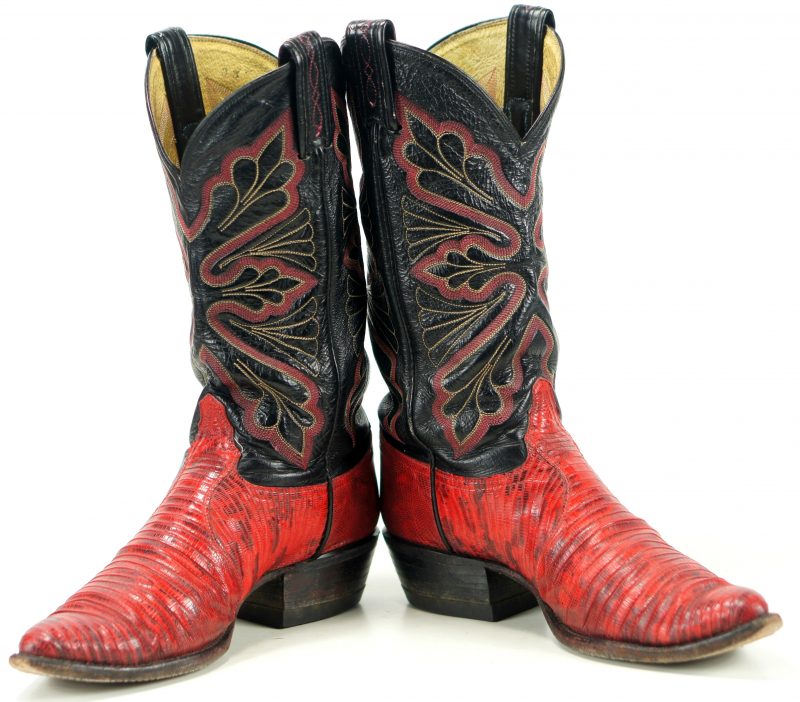 MY WAY OR THE HIGHWAY

Exquisite vintage Tony Lama Black Label red and black lizard cowboy boots with spectacular multi-row rainbow stitching.  Lama's Black Label boots are among the best they ever made.  Slip on a pair, and you'll see why.
Gorgeous condition.  Beautifully broken in and so feel-good it may ruin you for any other boots.  Immaculate inside. Hand stitched, pegged leather soles.
In a world of conformists who follow the rules, the pack and the latest trend, we offer these boots that celebrate born and bred rebels who march to their own drummer and make the world a little more interesting.
Product details:
| | |
| --- | --- |
| Brand | Tony Lama |
| Shoe Size | 8.5 D |
| Measurements | Height: 14", Length 11 1/2", Width: 4" |
| Heel Height | Medium (1 3/4" – 2 3/4") |
| Made in | the USA by the boot gods at Tony Lama |
Tony Lama Men's Red Lizard Cowboy Western Boots Vintage US Made Black Label 8.5: https://www.oldrebelboots.com/product/tony-lama-mens-red-lizard-cowboy-western-boots-vintage-us-made-black-label-8-5/