The Old Rebel Boot Company
Men's Tall Dove Gray Leather Cowboy Boots French Toe Raised Piping Mexico 9.5 E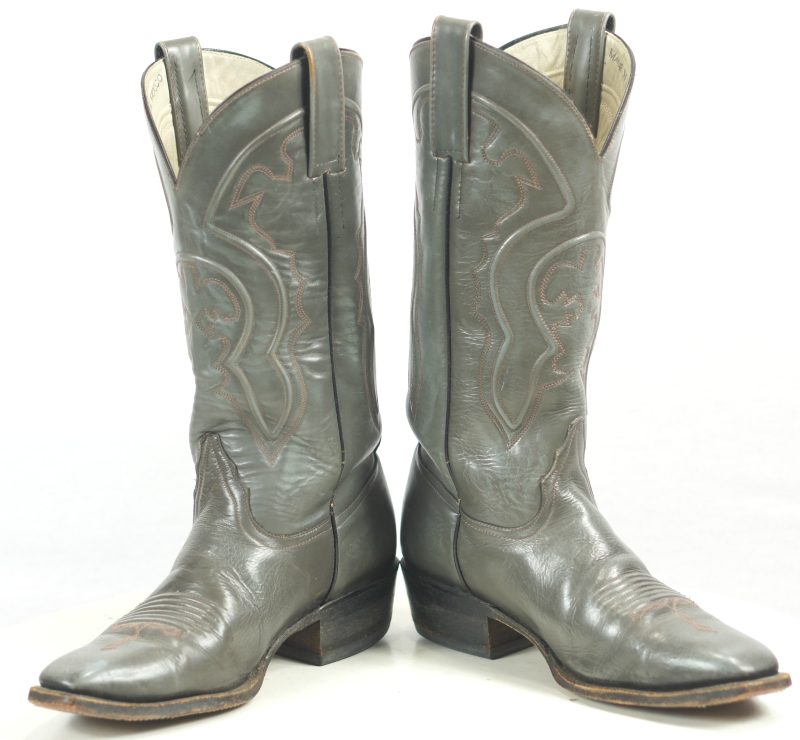 MY WAY OR THE HIGHWAY
Gorgeous tall dove gray leather cowboy western boots with raised piping trim and elegant French toes. Crafted in the wilds of Mexico.

Gorgeous condition.  Immaculate inside.  Killer patina. Leather so soft it may ruin you for any other boots. Stitched, double row wood pegged leather soles.
Really good boots speak for themselves.  Boots like these, it'll be more of a rebel yell.  In a world of conformists who follow the rules, the pack and the latest trend, we offer these boots that celebrate born and bred rebels who march to their own drummer and make the world a little more interesting.
Your ride, your posse and your boots are one of a kind as well.  Sorry – can't help with the ride or the posse.
Product details:
| | |
| --- | --- |
| Shoe Size | 9.5 E |
| Measurements | Height 15", Length 11 3/4", Width: 4" |
| Heel Height | Medium (1 3/4" – 2 3/4") |
| Made in | Mexico |
Men's Tall Dove Gray Leather Cowboy Boots French Toe Raised Piping Mexico 9.5 E: https://www.oldrebelboots.com/product/20305/