The Old Rebel Boot Company
Jack Daniels Old No. 7 Distressed Rockabilly Biker Work Boots 2005 Men's 9.5 D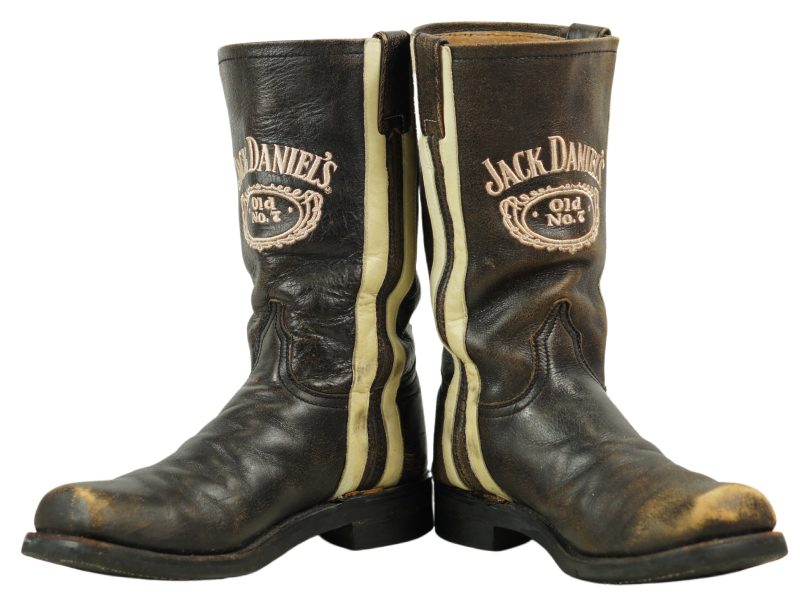 IF THE DEVIL WENT DOWN TO GEORGIA, HE'D WEAR THESE BOOTS
"​​​​​​​The devil went down to Georgia/He was lookin' for a soul to steal/ He was in a bind/'Cause he was way behind/And he was willin' to make a deal"- Charlie Daniels Band​​​​​​​
2005 Jack Daniels distressed leather square toe stovepipe biker work boots with embroidered "Jack Daniel's Old No 7", and white inlaid panels on the sides. Pretty damn rock n roll – and just what you'd expect from Jack Daniels.
Character top to bottom with these distressed classics.  We didn't hit these with polish, because we love the distressed, authentic look of boots with character.  Leather so soft it may ruin you for any other boots. Immaculate inside.  The stitching on one very small section of the lining (maybe an inch long or less) has come loose and needs a quick restitch – a cheap and easy fix. (See closeup pic). Stitched work soles in great condition.
Perfect for a my way or the highway kind of guy.  Rock on.
Product details:
| | |
| --- | --- |
| Brand | Jack Daniels |
| Shoe Size | 9.5 D |
| Measurements | Height 12", Length 12", Width 4 1/4" |
| Heel Height | Low (3/4" – 1 1/2") |
Jack Daniels Old No. 7 Distressed Rockabilly Biker Work Boots 2005 Men's 9.5 D: https://www.oldrebelboots.com/product/20330/