The Old Rebel Boot Company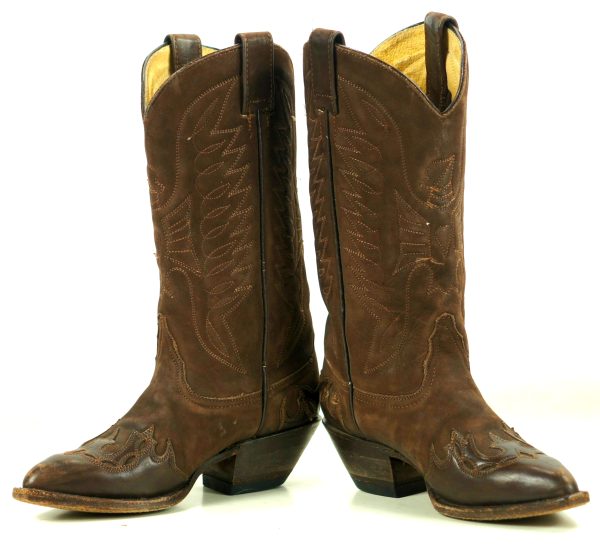 EVEN COWGIRLS GET THE BLUES Durango Shades Of The Old West Collection chocolate brown suede cowboy western boots with leather wingtips and heel overlays, stitched screamin American eagles, and more than their fair share of boho mojo. Gorgeous gorgeous gorgeous. Immaculate inside and out. Leather is supple and a pleasure to wear. Double row wood pegged leather soles in great condition. Even cowgirls get the blues – or so the saying goes.  Not any longer, with boots like these. Spectacular headturners to throw on with dresses, skinny jeans, whatever floats your boat.  Gotta-have-em boots for rodeo queens, drama queens and horse mad grrls.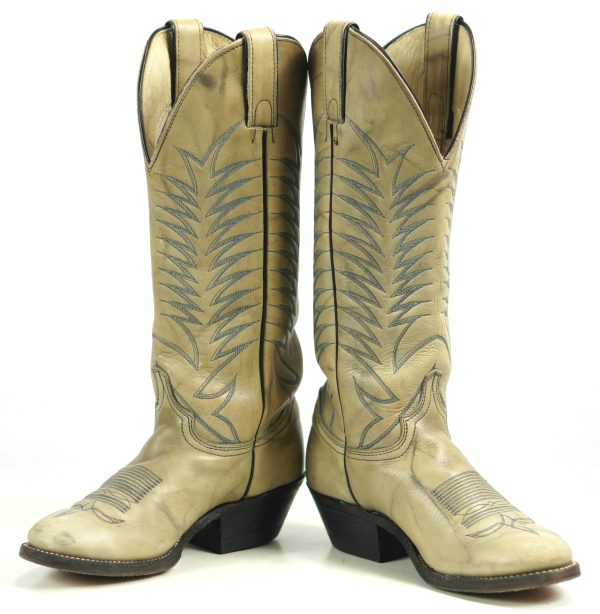 EVERYTHING A GIRL COULD WANT IN COWBOY BOOTS.  EXCEPT FOR THE COWBOY Vintage USA-made Abilene marbled bone leather cowgirl western boots with ooh! blue decorative  stitching.  Oh, yum. Not much wear.  Leather is soft, supple and beautifully broken in – a pleasure to wear.    Super clean  footbed.  Stitched leather soles in nice condition. Everything a grrl could want in a pair of cowboy boots.  Except perhaps the cowboy.  Sorry ladies – you'll have to supply your own cowboy.    Even without the cowboy, these gotta-have-ems go with everything – jeans, leggings, dresses [and yes, of course, cowboys].