The Old Rebel Boot Company
Paul Bond 17″ Tall Black Waxed Calf Custom Vintage Cowboy Boots Men's 12 13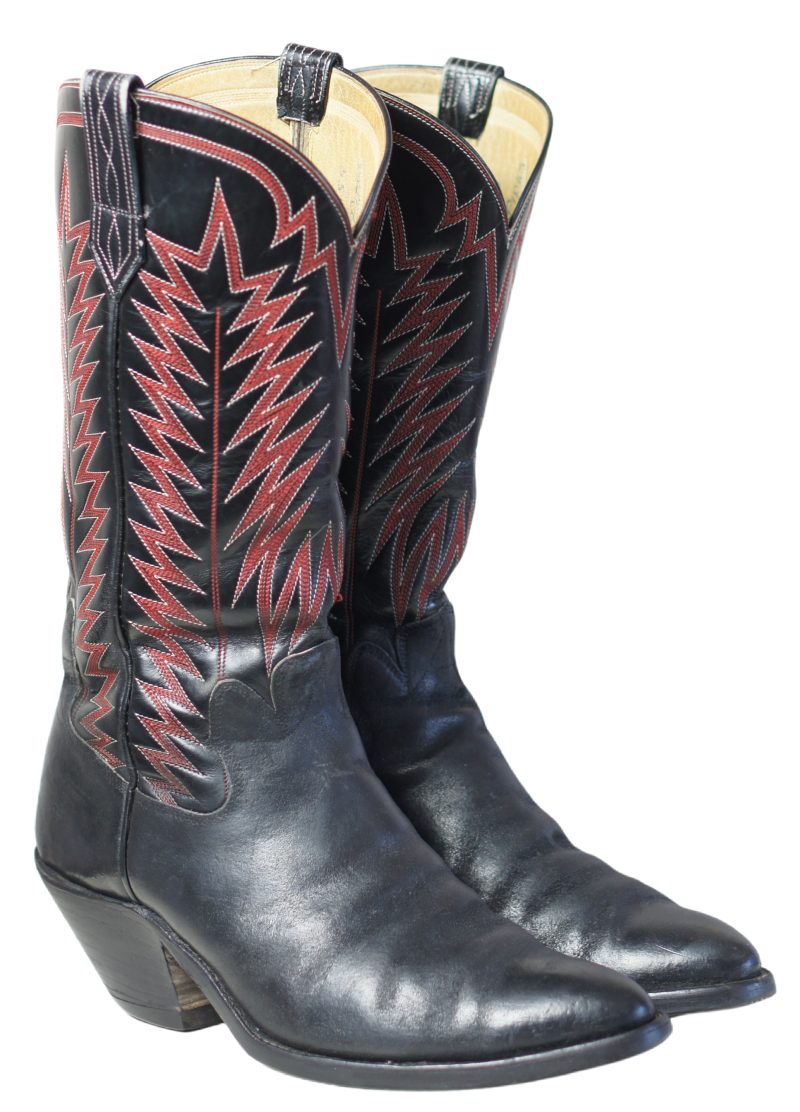 PRETTY DAMN ROCK N ROLL
Classic Paul Bond black waxed calf custom vintage 70s cowboy boots – 17″ tall (floor to top), six gorgeous rows of red and white stitching, and of course his signature 2 3/4″ undershot heels.  Made back when Bond was still working in his shop.  Custom made, so no size visible, but should fit a men's 12-ish.  No guarantees.
Leather so good it may ruin you for any other boots.  Normal wear and a little roughness in spots.  Immaculate inside. Hand stitched, pegged Hypalon Biltrite work soles with nailed rubber heel caps.  Some wear to back of heel caps – a quick and easy fix.
Bond's motto was "wear the legend", and his boots more than lived up to it. Known as one of the best boot makers in the world, Bond spent 46 years in Nogales perfecting the art of the boot. And got pretty good at it along the way.
Wear them once, and you'll be an instant Bond addict.
Product details:
| | |
| --- | --- |
| Brand | Paul Bond |
| Shoe Size | 12, 13 |
| Measurements | Height 17", Length 13", Width: 5" |
| Made in | the USA with boot addicts like you in mind |
Paul Bond 17″ Tall Black Waxed Calf Custom Vintage Cowboy Boots Men's 12 13: https://www.oldrebelboots.com/product/paul-bond-17-tall-black-waxed-calf-custom-vintage-cowboy-boots-mens-12-13/