The Old Rebel Boot Company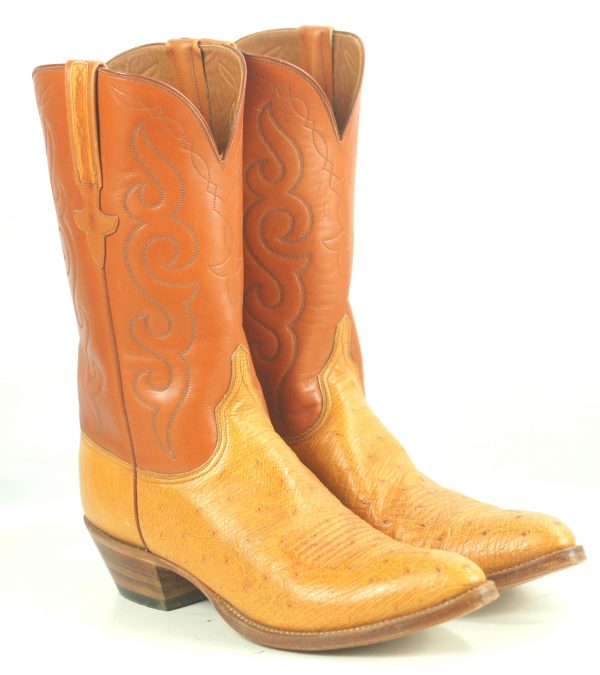 LUCCHESE ADDICTS BEWARE Vintage 1989 USA-handmade Lucchese Classics ostrich kicks in their original mailing box from Lucchese – including the 1989 postmark. Flawless. Worn only a couple times, and it shows. These look like they just came out of the Lucchese shop. Leather so soft it may ruin you for any other boots.  Immaculate inside. Hand stitched, double row wood pegged leather soles in beautiful condition. 32 wood pegs per boot. "Lucchese Handmade" stamp on soles still very visible. These are a real piece of boot history, with their original Lucchese mailing box, including the September 22, 1989 postmark and the original buyer's mailing label. His name has been cropped out of the pic. Very rare to find a pair of Lucchese Classics ostrich boots in this condition. Original owner wore them a couple times and then stored them in their Lucchese mailing box – for 31 years. Grab these boots and do a little time traveling.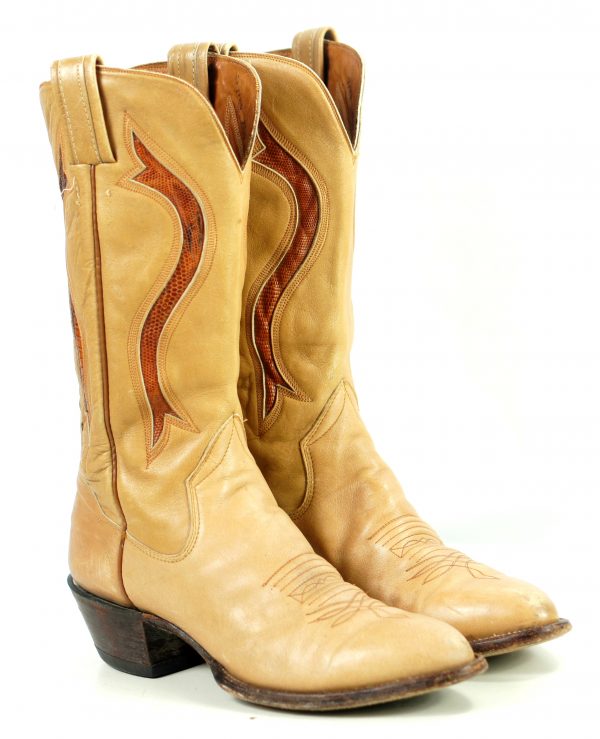 THE MARLBORO MAN Vintage handcrafted Sanders golden tan leather western cowboy boots with reddish brown exotic skin inlays Superb condition. Leather so soft they may ruin you for any other boots. Immaculate inside and out. Double row pegged handstitched leather soles with pronounced steel shank for added arch support and nailed O'Sullivan rubber heel caps. One boot pull has come unattached on the inside of the boot – a quick and easy stitch job Remember the Marlboro Man commercials? That rugged, sexy, handsome devil that sauntered onto the small screen and brought women to their knees across the country. Many of us have never gotten up. With boots like these, you'll walk as if you're the stand-in for the Marlboro Man, We can't guarantee that you'll be as sexy, handsome or irresistible to women everywhere as the Marlboro Man, if you buy these. Nor can we guarantee that you'll suddenly be able to live a technicolor life. But it couldn't hurt.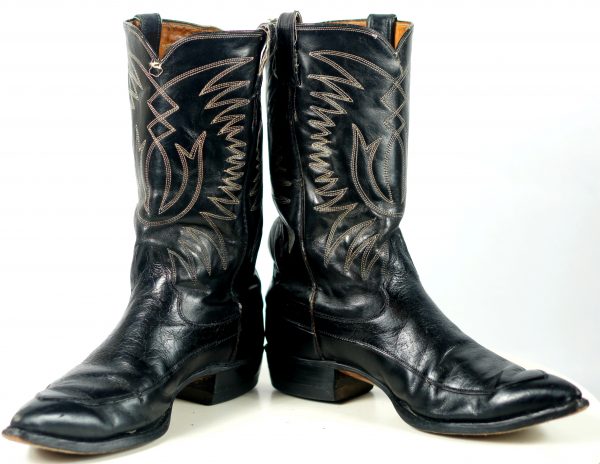 OLDER THAN SIN AND TWICE AS MUCH FUN Justin has been in the business of making obsession-worthy boots since 1879, and they've gotten pretty damn good at it. Made in Ft Worth Texas in the 70s, these iconic kicks are Justin at its best We should all look so good at this age. Decadently soft leather. A few creases and dings that just add character. Some color loss on piping. Small tear at vee of one boot, and some top piping that needs a quick restitch. Immaculate inside. Pegged leather soles and nailed rubber heel caps in great condition. In a world of conformists who follow the rules, the pack and the latest trend, we offer these boots that celebrate born and bred rebels who march to their own drummer and make the world a little more interesting.