The Old Rebel Boot Company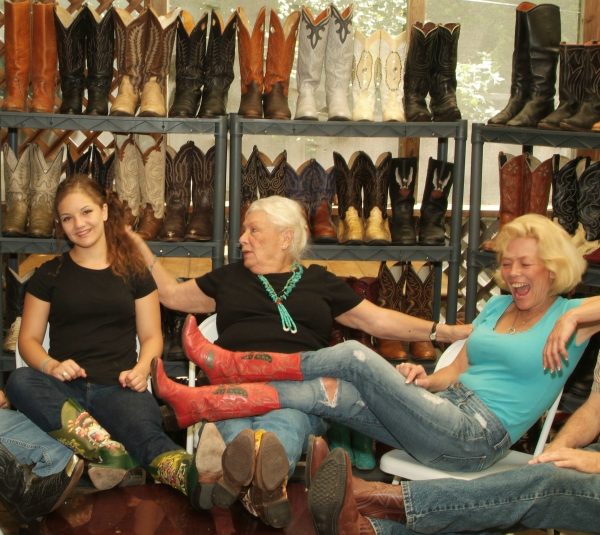 OUR STORY
"Baby, let's sell your diamond rings, buy some boots
and faded jeans, and go away" ~ Waylon Jennings
Dirt, dust and dreams.
We are, as one of our buyers said, in the business of selling legends – the merchants of dreams.
When we started this adventure – Muddy (the Old Rebel), her daughter Tracy, and Tracy's two kids – we were damsels in distress, broke as mud and in sore need of reinventing ourselves.   So we did what women have always done  – dusted ourselves off, said good-bye damsel, hello rebelle, and set out to find our new path.   And then along came the cowboy boots.
We thought we were Young Turks, but turned out we were really Old Rebels.
As a family, we've always had a crush on anything with a good story.  We've fallen hard for antique camel saddles, 12th century maps, turn of the century sleigh bells, old tooled saddles, trunks full of tattered costumes and feathered hats, and Turkish sabers. So the first time we saw a pair of old Blucher cowboy boots, with all the bells and whistles, we knew they had a story to tell, and we wanted to be part of the whole story telling culture of vintage boots.  We were hooked.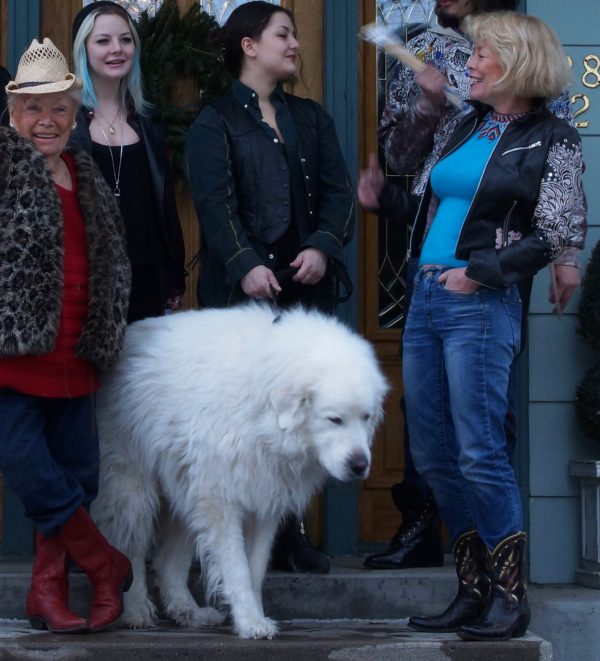 Turns out our True North is located due South and somewhere back in the day.  When cowboy boots were legends, rebels were heroes, road trips brought out your Thelma and Louise, wanderlust was a perfectly good life goal, and somebody else's junk was your cool.
The three Rs of life: re-purpose, re-use, re-love.
We started with raghouse road trips, hunting dreams and boots from L.A. to the Carolinas and everywhere else in between, piling into the car and hitting the road full of hope and grit.  We'd blow through raghouses like a cat on a hot tin roof, nabbing thousands of pounds of dirty, dusty, recycled vintage boots in need of some elbow grease and faith.  Boots with a thousand stories, made by long-gone boot gods in their little shops back in the day. Boots for urban cowboys, ranchers, weekend warriors and boot addicts.  Boots to make your heart remember.  Today, we hunt our boots down at raghouses, estate sales, and little towns where they mean it when they say Main Street.
We ship em back to the family home, a turn of the century three-story farmhouse in the heart of Minneapolis, that's wall to wall boots these days.  Our crew then sets to work to transform them into the magnificent bastards you're guaranteed to fall in love with.  Restoration HQ is our two story greenhouse – tricked out with long battered wooden tables, tins of saddle soap and bottles of conditioner, rows of polishes and dyes in every color, and an Italian industrial steamer to sterilize the inside of the boots.  One big shout-out to the comeback of a thousand legends.
Boots that will have you howling at the moon. The moon may just howl right back. 
In a world of conformists who follow the rules, the pack and the latest trend, our boots celebrate all of you born-and-bred rebels, dreamers, schemers and free spirits who march to their own drummer and make the world a little more interesting.  Welcome to the Old Rebel family