The Old Rebel Boot Company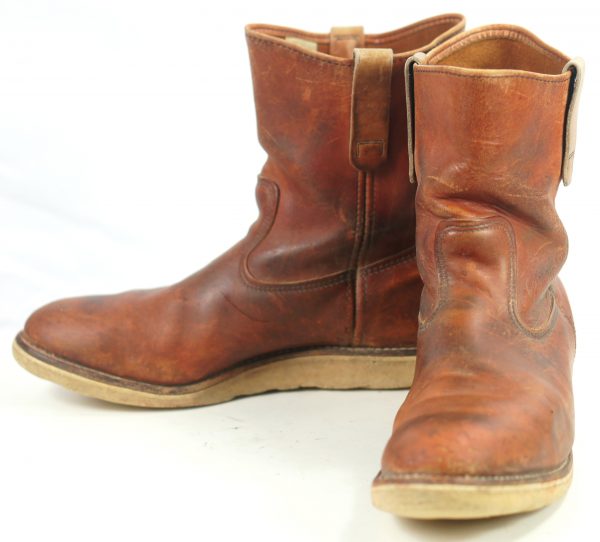 THE HIPSTER'S WINGMAN Vintage 1990 Red Wing Irish Setter pull on short work sport boots with a killer patina. Very cool old boots with tons of character. Couple scuffs and dings. Leather so soft you may never want to take them off. Immaculate inside with original leather insoles.  Outsoles show some wear on treads. If the heritage movement and blue collar chic were indie bands, Red Wing boots would be their frontman. The heart wants what it wants.  Even if you are not a rapper, a Japanese hipster or an oil wildcatter, these vintage Red Wings are pretty much something you just gotta have.  Your heart will demand them.  We're talking love, and maybe obsession.  That cute red headed barrista at Starbucks – well, that's infatuation.  These boots – hey, it's a relationship. 230 steps go into making every pair of handcrafted Red Wing boots.  Which is why they'll be with you long after lumberjack beards, poseur bands and that red-headed barrista are faint, embarrassing memories.  Talk about heritage boots.  Dude, these are the real thing.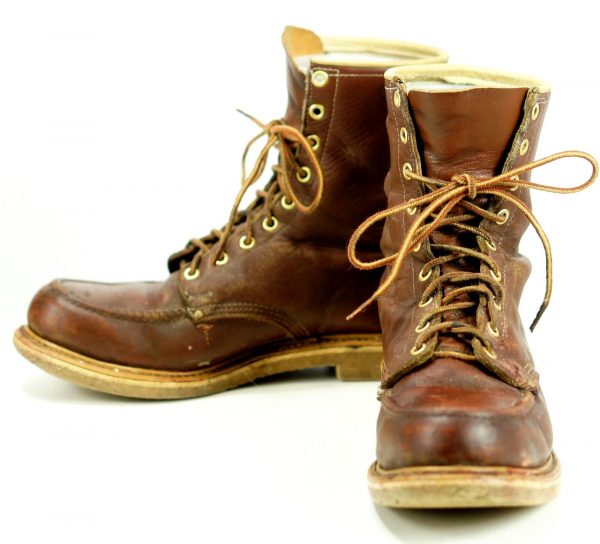 IT'S COMPLICATED … Classic vintage USA- and union-made HyTest old school brown leather work ankle lace up hunting/sport boots with a moc steel toe.  Double stitched seams and lots of attention to detail. Worn to perfection – scuffs, dings, scrapes and color loss [and a couple white paint spots]. No break-in time with leather this soft and supple. Insides nice and clean Boots so badass and cool, you may just give up on your Red Wings.  We make no guarantees, but with boots this sexy, rugged and manly, they may change your facebook status from "lovelorn, bitter and single forever" to "it's complicated".