The Old Rebel Boot Company
Rare Nocona Peewee Cowboy Boots Cloth Pulls Vintage 50s 60s US Made Men's 8.5 D Women's 10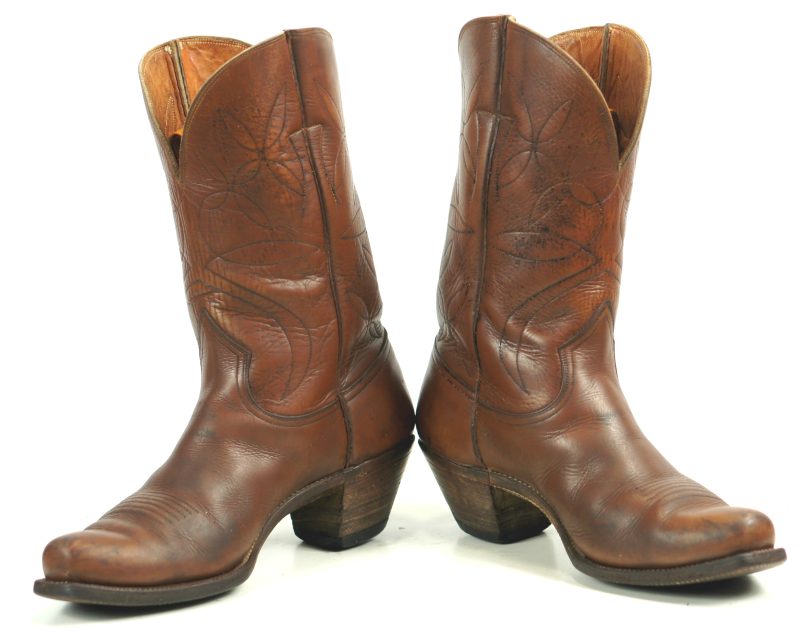 THE ONLY HAND-ME-DOWN YOUR KIDS WILL FIGHT OVER WHEN YOU'RE GONE
Older-than-sin vintage 50s 60s Nocona brown leather snub nose pee wee cowboy western boots with squared off snub nose toes, understated stitched flowers, and yellow cloth pulls embroidered with "NOCONA BOOTS.  NOCONA, TEXAS".  Handcrafted in the USA with boot addicts like you in mind.
Leather so foot happy soft it may ruin you for any other pair.  No cracklings or cracks.  Some darker spots – we haven't cleaned these up, as we think it gives them character.  However a good polish would bring the color right up.  Immaculate inside.  Killer patina.   Hand stitched, wood pegged leather soles in great condition with 28 square wood pegs per boot.  Nailed rubber heel caps.  Black embroidery on wide yellow cloth pulls is vivid and unfaded.
Saunter down memory lane.  Back when drive-in movies were a thrill, love was the answer, King had a dream, and rock n roll was the most dangerous thing around. We landed on the moon, thought James Dean hung it, and believed in happily ever after.  Cars and boots were made in America, jobs were forever, and friendships were face to face, not Facebook.
Can't turn back the clock, but in boots like these, you'll feel like you did.
Product details:
| | |
| --- | --- |
| Brand | Nocona |
| Shoe Size | 8.5 D |
| Measurements | Height 12", Length 11", Width: 4" |
| Heel Height | Medium (1 3/4" – 2 3/4") |
| Made in | the USA by the legends at Nocona |
Rare Nocona Peewee Cowboy Boots Cloth Pulls Vintage 50s 60s US Made Men's 8.5 D Women's 10: https://www.oldrebelboots.com/product/rare-nocona-peewee-cowboy-boots-cloth-pulls-vintage-50s-60s-us-made-mens-8-5-d-womens-10/