The Old Rebel Boot Company
Matisse Distressed Brown Leather Short Cowboy Boots Boho Inlay Stars Women's 9 M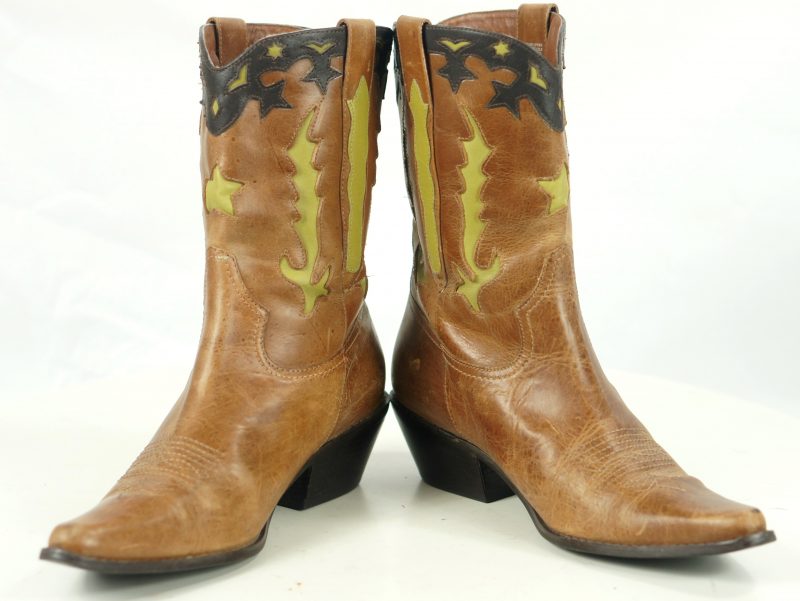 THESE BOOTS WERE MADE FOR HOOTIN AND HOLLERIN
Razzle-dazzle Matisse distressed brown leather short cowboy western boots with yellow inlays and stars, black overlaid collar, and mules ear pulls. Oh, girl, grab em now.
Superb condition.  Immaculate inside and out. Brazilian leather so soft they may ruin you for any other boots.   Soles in great condition.
You may just want to let the boots do the talking.  Boots as high-octane adorable as these, they'll be hoootin' and hollerin'.  Guaranteed.
Product details:
| | |
| --- | --- |
| Brand | Matisse |
| Shoe Size | 9 B |
| Measurements | Height 11", Length 12", Width 3 3/4" |
| Heel Height | Medium (1 3/4" – 2 3/4") |
Matisse Distressed Brown Leather Short Cowboy Boots Boho Inlay Stars Women's 9 M: https://www.oldrebelboots.com/product/matisse-distressed-brown-leather-short-cowboy-boots-boho-inlay-stars-womens-9-m/