The Old Rebel Boot Company
Texas Vintage Inlay Cowboy Western Boots Multicolor Eagles US Made Men's 10 D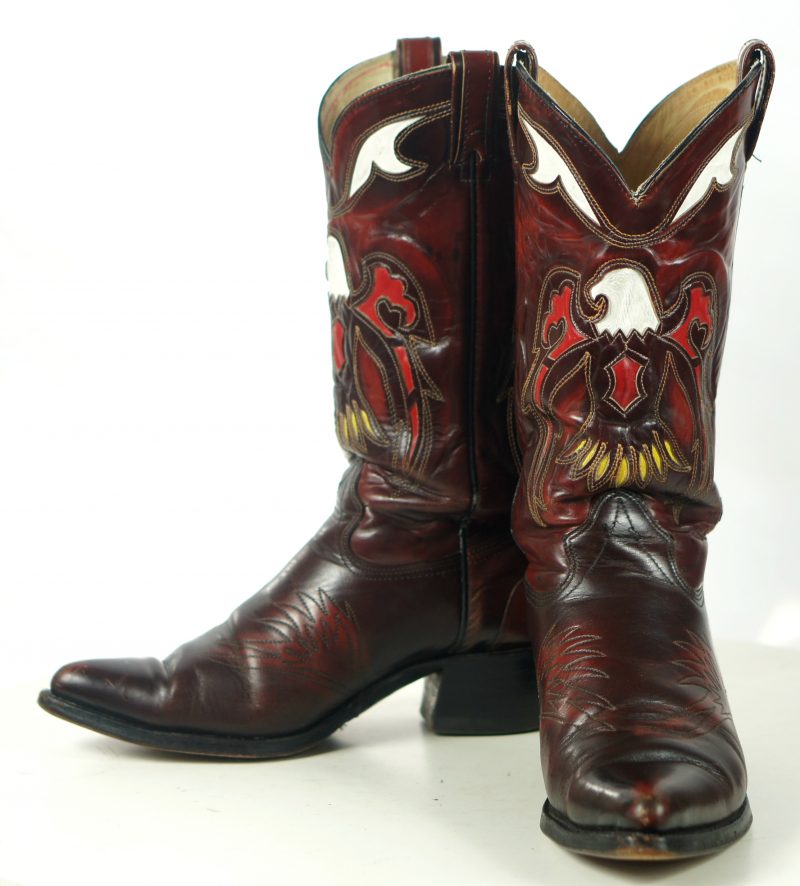 IF THE DEVIL WENT DOWN TO GEORGIA, HE'D WEAR THESE BOOTS​​​​​​​​​​​​​
"​​​​​​​The devil went down to Georgia/He was lookin' for a soul to steal/
He was in a bind/'Cause he was way behind/
And he was willin' to make a deal"- Charlie Daniels Band​​​​​
Bodacious vintage USA-made Texas brown leather cowboy western boots with multicolored screamin American eagle inlays and a killer patina.
Gorgeous condition. Leather so feel-good it may ruin you for any other boots. Immaculate inside. Hand stitched, pegged leather soles with leather half soles.
Some of the wicked coolest boots we've seen in years. Perfect for a my way or the highway kind of guy.
Rock on.
Product details:
| | |
| --- | --- |
| Brand | Texas |
| Shoe Size | 10 D |
| Measurements | Height 15", Length 12", Width: 4" |
| Made in | the USA the old fashioned way – very, very well |
Texas Vintage Inlay Cowboy Western Boots Multicolor Eagles US Made Men's 10 D: https://www.oldrebelboots.com/product/texas-vintage-inlay-cowboy-western-boots-multicolor-eagles-us-made-mens-10-d/