The Old Rebel Boot Company
Tony Lama Firewalker Cowboy Western Boots Red & Black Inlay Vintage 80s Mens 11 D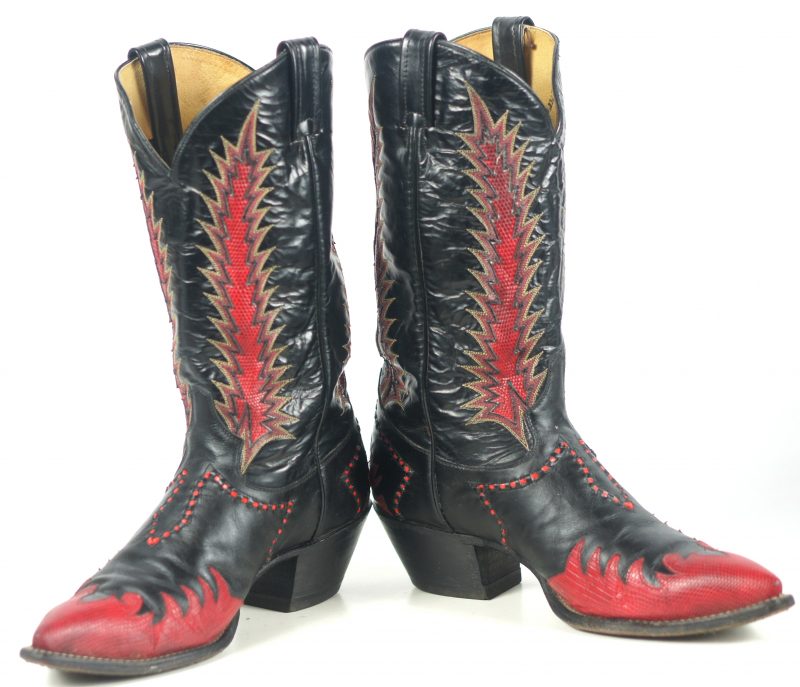 IF THE DEVIL WENT DOWN TO GEORGIA, HE'D WEAR THESE BOOTS
"​​​​​​​The devil went down to Georgia/He was lookin' for a soul to steal/
He was in a bind/'Cause he was way behind/
And he was willin' to make a deal"- Charlie Daniels Band​​​​​​​
​​​​Smokin hot vintage 1980s Tony Lama firewalker leather cowboy western boots with red lizard inlays outlined in multi-color multi-row stitching; red lizard flame shaped heels and toes; and red saddle stitching.  Made crazy popular by Brooks & Dunn in the 1980s.
Gorgeous condition.  Leather so feel-good it may ruin you for any other boots.  Immaculate inside. Hand stitched, pegged leather soles.
Some of the wicked coolest boots we've seen in years.   Perfect for a my way or the highway kind of guy.  Rock on.
Product details:
| | |
| --- | --- |
| Brand | Tony Lama |
| Shoe Size | 11 D |
| Measurements | Height 15", Length 12 1/4", Width 4 1/2" |
| Heel Height | Medium (1 3/4" – 2 3/4") |
| Made in | the USA by the boot gods at Tony Lama |
Tony Lama Firewalker Cowboy Western Boots Red & Black Inlay Vintage 80s Mens 11 D: https://www.oldrebelboots.com/product/14945/